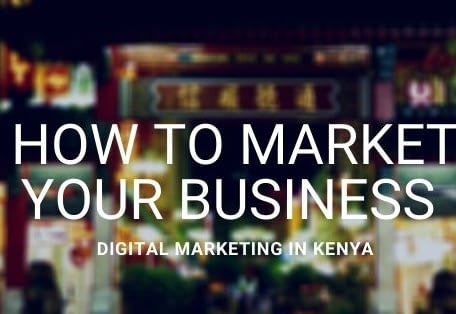 How to market your business online using digital marketing in Kenya
Reading Time:
8
minutes
Digital marketing in Kenya.
Digital marketing in Kenya has been gradually growing over the years. More businesses, as well as individuals, are embracing it to market their business and get customers online. 
Digital marketing is a branch of marketing that uses the internet and various digital technologies and gadgets such as mobile phones, desktop computers, and laptops in promoting products and services. 
In most cases, it is also referred to as online marketing. Some people even call it internet marketing and it all refers to the same thing. 
They are quite a several advantages of digital marketing over traditional marketing as follows: 
It is easy to set up, monitor, adjust, and share. 

It has greater engagement rates since it is exact so you get to target only the potential customers who are most interested in what your selling

Above all, it is Low cost compared to traditional marketing options such as tv, radio, print, and billboards. You find that nowadays you get better ROI on online ads than traditional ads. 
Hence, digital marketing is the way to go if you are wondering how to market your business in Kenya.
Whether it is a new business or an established business.
How to market your business: The tools and skills. 
You don't have to study digital marketing in school. The tools needed for digital marketing in Kenya are either free or easily accessible across the internet as seen in this article. 
Ways to market your business online. 
Now let's see how to do online marketing in Kenya. These are proven and tested the best marketing strategies in Kenya. You can use these methods to do find new customers and increase sales. Also, the strategies can be applied to effectively market new products in the Kenyan market. 
Get a website
Web design is always a key component to reach out to as many people as possible. You need to create an appealing website that displays your products and services. Make use of graphics and video to make your web site very attractive. Most people form the first impression of your business based on how your website looks. Use contact forms on the website to collect leads and customer data which you will use for further follow-up. Include your contact details and social media profiles. This improves the credibility of your business which leads to customers buying your products. 
Create content in different formats. 
In this information age, content is king. Content marketing is an important component of digital marketing. You should create quality, consistently. Follow the E.A.T rule that is highly recommended by Google. Your content should show your expertise in that particular subject, be authoritative and trustworthy. By following this simple EAT rule, you even don't need a content marketing agency to create great content. 
To ensure you are consistent in content creation, make a calendar, and use social schedulers such as a buffer. This will help you keep tracking your efforts. 
To improve your engagement rate and keep your customers coming back to your website or page you need to be versatile. You can simply achieve this by creating content in various formats. Here are the types of content to use for marketing in Kenya. 
Optimize Images
As they say, a picture is worth a thousand words. Use high-quality photos for your products. Make use of photos to tell the story of your business and enhance your brand. 
Show a real person in the photos that your share. People generally like to know that they are dealing with real human beings so even as you market your business include a real person. 
For example, instead of just posting photos of dresses, use a photo of someone wearing that dress. If you are selling electronics, have someone hold the device and this will be more effective and engaging. 
Another unique way to use photos in marketing is to show the product in the context of how they are used in real life.   
If you are a service provider, use photos to educate your audience about your business. Graphics such as posters are also a great medium to invite customers to share products online. At times you will need a graphic designer to come up with nice promotional graphics. You can also get high-quality photos at Unsplash for free. 
Videos
Video marketing is now important than ever before. Everywhere you turn you see some video. You should use the growing popularity of video content to market your business in Kenya. 
Here is how you can take advantage of video.
On the homepage of your website, you should have a welcome video. This introduces the users to your business. Make it as natural as possible and speak in a conversational tone as you would in real life. The same video can be somewhere on your about us page as well. Make use of video to introduce your team. 
People believe what they see so you should include a video in your testimonials. Video content is also for products. 
Video is also great to promote products and services. Make products unboxing, reviews, and demonstrations. You can also use video to invite people to an online event or webinar. Another great way to utilize video is to make videos of your interviews or past talks relevant to your business. 
Infographics are a great way to break down complex information into readable formats. You can present complex information using infographics. If your product or service includes industry statistics, the best way to market them to your audience would be through infographics. Use words that people care about. Make it simple and clear so that people can share. Use words 
Humorous video or photo with a piece of text on it, often, humorous is copied and widely shared across the internet. Spice your marketing efforts with some memes and you will be surprised by the results. Especially if you are targeting the young generation. It's all about creating content that your target audience can relate to. 
You can never go wrong with blogging. Blogging is an entire career in itself. Make sure you update the blog section of your website regularly to keep the content fresh all the time. 
Search engines such as Google love long-form articles. Ensure that the average word count of your blogs is 1800. If you can write 3000 words for a single article on your website, the better. This will drive more traffic to your website. 
For those in professional fields, it's recommended to share original research content. This will market you as an authority in your respective field. 
Show the entire process followed to solve a specific problem and more customers will come to you. Be as detailed as possible, describing every step of the process. 
Other formats of content that you should use for marketing in Kenya include Whitepapers and reports, Ebooks, Presentations, Webinars, Quizzes and Polls, Podcasts, Checklists, Email Newsletters, E-Courses, Interviews, Q&A, Quotes, Testimonials, Contents, Press releases, and Predictions. 
1. Market your content widely. 
Use Twitter hashtags. Twitter is a great platform and the secret to it is to ensure you are there right at the moment when the conversations are happening. Find highly engaging tweets and hashtags and join the thread. When you become an expert on Twitter for topics related to your business, it will translate to great growth. 

Take advantage of Instagram stories. Post stories that are related to your business. 

Share your content on WhatsApp status. Make some nice animated GIFs, short video clips, photos of your products, and services. Perfect for promoting your business to customers you have interacted with before. Whatsapp is rapidly becoming the best strategy you should consider if you're wondering how to market your business. 

Answer questions on Quora and share links to your social media profits or website. You give to get

Post on Reddit regularly. Reddit is often underestimated, and it can make a very huge difference in terms of your marketing efforts.  

Professional services should use Linkedin e.g accountants,

Use Facebook

Create a Facebook group and grow the audience 

Go live once in a while, The point is to keep interacting with your audience and this earns you new customers easily

Run Facebook ads. For as low as Ksh 2,000 per ad you can get amazing results. 

Comment on groups and forums. Be very active in groups. 

Post facebook marketplace. The Facebook marketplace was introduced on Oct. 3, 2016, and interestingly, most Kenyan Facebook profiles saw it this year for the first time. Make use of it and make sure your profile is eligible for the Facebook marketplace. 

Use Google ads. Google Adwords is great for local reach. Everyone in Kenya uses google so it would be a great avenue to market your business

Leverage IG influencer. Reach out to local Instagram influencers to promote your product. Kenyan influencers normally charge a minimum of Ksh 5,000 per post. The cost can be up to Ksh 300,000 depending on the influencer you choose.  

Send emails and maintain an updated email list(Create a relationship with customers)

Get your business listed on the following Kenyan marketplaces. They have free versions as well as paid options if you need more visibility for your ad. 

Jumia.co.ke vendors

Businesslist.co.ke

Yellow pages Kenya

Use rich snippets. Find relevant schema markup and add it to your website. They help search engines understand your site better hence improving ranking. The following schema markup data will increase the visibility of your website. 

Business info

Job postings

FAQ

Webpage and articles

Products

Rating

Offer free samples of products online and you will be surprised by the results. For a long time, offering anything for free has been one of the strongest strategies on how to market your business especially for new businesses. 

Run a contest and reward users with small gifts like airtime. It doesn't cost you much to buy a couple of Bamba 50s for a number of your loyal online customers. 

Utilize SEO in Kenya. This is the best way to promote your business online as explained here. 

Create a branded email signature so that every time you send out an email, the receipt can see and learn more about your business. Include a link to your website and social media profile pages. 

Get a google my business page to show the location and details of your business on google maps. 

Ask for testimonials and reviews whenever you deliver to a client. Reviews work wonders. Ensure you respond to reviews promptly once received to keep your pages as interactive as possible. 

Create a referral program where you reward people for every customer they refer to your business. This has been proven quite effective especially in eCommerce electronics and clothing stores. You can offer a small amount let's say Ksh 500 for every referral depending on what you're selling. 

Encourage User-generated content. For example, if you are selling shoes, encourage people to take photos wearing them and tag your business

Have a consistent NAP. In this case, NAP stands for Name, Address, and Phone. Ensure the details are consistent all over the internet. This raises your credibility which attracts more customers. 

Use google suite tools as follows

Search console to check the keywords people are typing to find your business. 

Analytics to check the visitors to your website

Alerts to get notified whenever there are google searches related to your products and services

Trends to check the demand for products and services. It shows you information about your product's popularity. This data is very important 

Optimize to do A/B testing and find out what resonates best with your target audience

Developer to get APIs for embedding your business location on apps and websites. 

Be mobile

Pagespeed to ensure your page loads as fast as possible and avoid losing customers who would have otherwise bought. 

Mobile-friendliness to ensure users can comfortably access your products regardless of the devices they might be using.

Develop a mobile app to give users an exclusive experience on their mobile phones. 

Incorporate mobile marketing

Bulk SMS to reach out to as many potential customers all at once. Most internet users in Kenya are always on their phones and so should be your business.

Caller ring back tones (RBT) & Skiza Tunes. This is the ringing sound that you hear when you try to call someone. This should be a unique introduction to your business. You should use skiza tunes to interact with potential clients. Make sure you include business services or products and of course location,

Participate in online events and webinars. Contribute and if possible host your online event to educate and interact with your potential customer

Interact and have conversations online in groups chats and other people's posts. Remember the rule of 7 that says people have to interact with your product at least 7 times before they buy. More eyeballs mean increased business growth so make sure you are all over the internet but don't spam posts. Be respectful of the online community. More eyeballs more business growth

Collaborate with local bloggers and local online news platforms for a shout out. This goes a long way in creating awareness of your products and services. 
CONCLUSION
In conclusion, even as you use these methods of marketing your Kenyan business, make sure you offer value or exceptional experience and ultimately sell something that people want and at price, they are willing to pay. You can master how to market your business but remember growing your business is all about giving value to people and in turn, you earn out of it. 
Let us know of any other methods that have worked for you. 
Comment below.