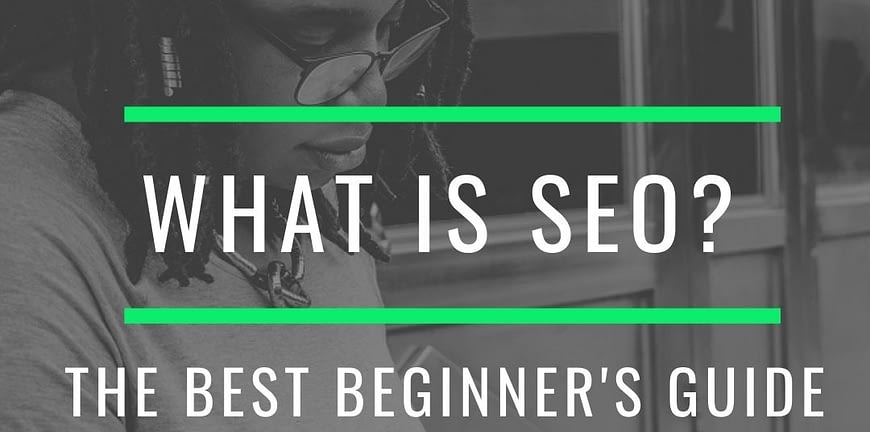 What is SEO? – The Best beginner's guide to SEO in Kenya.
Reading Time:
7
minutes
For a long time, SEO in Kenya has been an under-utilized tool by businesses to market their products. 
Simply because most people do not know what SEO is and how it works. 
Most people in Kenya didn't know how best they can tap into its power to promote their websites and grow their businesses. 
We are going to cover that together on this beginner's guide.
What is SEO?
Search engine optimization, in simple terms, refers to the activities aimed at improving the website's visibility on search engines for relevant search keywords. 
Let us use this example.
Let us say you are selling cars in Kenya. SEO is the process that will ensure that your website appears high on search engines when someone types in keywords that are related to car sales in Kenya. 
Types of SEO   

There are two types of Search engine optimization broadly labeled as off-page SEO and on-page optimization. 
Off-page SEO involves all activities that are happening outside the website but still aimed at improving the website's traffic and visibility on sites such as Google, Yahoo, and bing.  
These activities include social media content distribution and networking, brand mentions, link building, guest posting on relevant sites. 
On-page optimization, on the other hand, involves search engine optimization activities that happen on the webpages of the website. 
It is all about optimizing parts of the website such as the title tags, image alt tags, meta description, implementing the main keyword and optimizing the page's content around it, header tags, creating friendly page URLs(short and clear).
There are also other two broad categories; white hat and black hat SEO.
White hat is the ethical and recommended branch of search engine optimization.
Avoid any blackhat methods since they might even get your website on all major search engines. 
How it works
Now we know what search engine optimization is, let's see how it works and how to go about it. 
It can be best explained by listing the process steps involved as follows.
Onboarding. It involves setting up the required environment to do the optimization. Once you get to access the backend of the website, you need to set up a google search console. It will be useful in tracking your progress as well as give you insights on areas you need to improve in your optimization.

Site Audit. Also called site crawling, you need to analyze the entire website to identify all the issues. Otherwise, it would be hard to optimize a site for search engines if you don't know the website problems. We are going to look at available tools you can use for a thorough website analysis.  

Technical SEO. Next, you need to check the issues that are affecting the crawling and indexing of the website by search engines. These could be response errors caused by broken pages. So technical Search engine optimization is all about fixing the issues identified in the audit stage.  

Keyword research. Keyword research is one of the tasks in the optimization process. Remember, the whole process is to make sure that your website is ranking for a given set of keywords. At this stage, you compile all search terms that will bring in the most targeted traffic. Every SEO keyword forms the basis of the optimization campaign. 

Competitor analysis. Knowing who your competitors are in the online space is very important. Analyzing what they are up to in terms of the keywords they are ranking for is more important. That's usually a great place to get started so that you can also make sure you get a fair share of the traffic in your sector.

Content strategy, creation, and distribution; As part of the optimization, you need to have a content calendar to guide you on content creation and to ensure you remain consistent. When it comes to WordPress SEO, we'd recommend using a Yoast SEO plugin to help you with your SEO writing. It guides you on the keyword phrase to use, the on-page attributes such as image alt tags, header tags, and readability.

Tracking and monitoring. The final stage is all about tracking the progress of the optimization and website SEO positions on a bi-weekly basis. It takes a bit of time for search engines to find and crawl webpages. It is always good practice to exercise patience at this stage. 
Tools needed for SEO in Kenya
Benefits and importance  
    Most Kenyans often wonder if SEO is worth it because it doesn't come cheap going by the rates charged by most SEO companies in Kenya.
SEO in Kenya is worth it. Here are eight reasons why it is worth it.
Drives more traffic to the website; this is by far the main benefit of SEO. It is what is called organic search traffic. More traffic means more business. It is why optimization should be a core part of the Kenya 

web design

 process.

Bring in more customers to grow your business. In particular, local SEO increases the number of customers visiting your business premises as well as neighborhood deliveries. 

It's cost-effective marketing. Unlike other forms of online marketing in Kenya, where you have to cough up loads of money for an ad, SEO marketing in Kenya is quite affordable. It saves you money that you can use for other business functions. 

Better conversion rates since SEO in Kenya helps match user intent by serving relevant content. Users are more likely to read your content or buy if they land on your website and find what they were hoping to find. It is particularly important in e-commerce SEO.

Build brand awareness via improved visibility across search engines and social media platforms. 

Be a step ahead of your competitors. I bet you a number of your competitors in Kenya aren't optimizing for the relevant keywords in your industry. So when you take the initiative and start optimizing for your website, you'll be way ahead of them. 

Improve website user-friendliness because of the number of technical amendments. User-friendly websites get more web traffic. 

SEO rankings are more long-lasting, unlike paid ads that are only beneficial when they are active. Once you stop paying for the ads, you also cease to enjoy the benefits. It is not the case with search engine optimization positions. High ranking webpages will continue bringing in new traffic even long after the optimization.
Cost and pricing of SEO in Kenya
SEO prices in Kenya start from anywhere Ksh 20000 to Ksh 300,000 per month depending on:
The scale at which your business is operating (A 10-page website is different from a 1000-page site),

The competition in your industry,

The number of keywords you would like to rank for,

The number of backlinks needed over the campaign period,

The locality in which you want to get higher rankings.
On average, any SEO company in the Nairobi area will charge Ksh 20,000 every month for managed SEO services.
At Kevsam Solutions, we have customized SEO prices to cater to businesses in Kenya – large or small.
Precisely, we have a local SEO services special package that costs Ksh 10,000.
Professional SEO services in Kenya are also quoted depending on whether you choose an SEO agency or an SEO expert.
Most Nairobi SEO agencies are a bit pricey because of the pool of expertise you will be enjoying.
The SEO freelancer, on the other hand, is more cost-friendly and most of them do quite decent work.
Any highly skilled SEO specialist will charge a minimum of Ksh 15,000 per month. 
Tricks and techniques
So what are the SEO techniques you can use for SEO as a beginner?
First, focus on creating great content in different formats such as
Blog articles,

Top tens,

Infographics,

Videos,

Listicles,

Animated gifs

Ebooks

Case studies

White papers

Template and checklist downloads
This rich content on its own will catapult your website rank high up on the search engines.
Secondly, build links steadily in an organic way.
Make sure you get high DA backlinks. They will boost your Google SEO efforts.
Again, for you to get these high-quality backlinks, you need great content that others are willing to link.
It is a cycle.
Once you master it, you will be on the winning side when it comes to SEO optimization.
Ranking as the top in your field is all about creating authoritative and high-quality content.
Search engine marketers in Kenya will agree that content is king.
Lastly, be social.
Social media remains one of the best strategies to promote your content.
Content marketing combined with social media marketing is a powerful tool to boost search engine ranking for your website.
Share your blog posts, e-commerce product links. Sharing your content will also earn you good traffic.
Use social media platforms as part of your content marketing in Kenya. You will enjoy the results.
Conclusion:
With this information, I hope you can now get into SEO marketing comfortably.
It is not as complicated and foreign as many people think.
You can now use local SEO services in Kenya as a powerful tool to market your products and grow your business.
For search engine optimization consultancy, feel free to contact kevsam solutions – the best SEO company in Kenya. Your website will be in the hands of an experienced SEO consultant.
Feel free to leave your comments below on your thoughts, additions, and any further clarification you may need regarding SEO in Kenya.